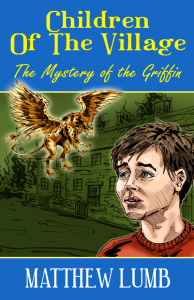 Children of the Village: Mystery of the Griffin
The first book in the Children of the Village series follows Marcus Thynne, an eleven year old boy who's family makes the move from the big city to a tiny remote village by the name of Ogmorth Downs. Largely forgotten by the outside world, Marcus is not sure that the quiet life in this village is going to suit him after the high-flying life of the city. However, he soon learns that life in the village is more that it seems, as he discovers that it holds a secret – a secret that only the other children seem to know about.
Marcus is soon living the life of dreams, doing things that he never thought possible. However, they also release a menace into the unsuspecting village, a curse that virtually destroyed the village before and could threaten it again, along with the rest of the world if it is not stopped.
Marcus and the other children of the village soon discover that it is down to them to put a stop to this, as they discover that they cannot tell anyone about the secret, all the while trying to dodge worried parents, nosy teachers and suspicious policemen. Could the fate of the world rest with the children of the village?
The Mystery of the Griffin is now available on Amazon as an e-book or a paperback – and the second book, The Secret Society is underway!