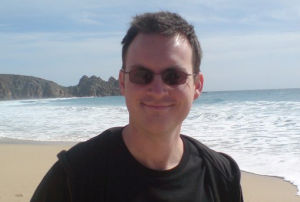 Matt Lumb was born in April 1977 in Worcester, England. From a young age he had an appreciation of the English language, books and reading. An avid reader of Terry Pratchett, Matt became engrossed in the fantasy genre and started writing his first book on a train, using a mobile phone with a flip-out keyboard whilst commuting to London for a computer programming course.
Matt has a life-long love of cars, and it was believed that he could say Mustang before he could say mummy… Matt has an extensive collection of die-cast models which he started collecting as far back as he could remember, and is not happy unless he can name the make, model and year. If it has a 'V' configuration of cylinders, Matt is always interested.
A love of martial arts was also cultivated early on as Matt was enrolled into a Shukokai Karate club at the tender age of eight years old. Matt has been training for over thirty years and currently holding a 3rd Dan black belt, he continues to study and is always willing to augment his skills by studying any other arts that are available.
Another affinity that Matt has always held is technology. Always keeping his finger on the technological pulse, he has always enjoyed playing video games, repairing and upgrading computers and owning as many gadgets as humanly possible.
Despite the fact that a love of cars, computers and martial arts should make him a perfect candidate for MI5, they have not come knocking yet and Matt is happy to keep writing books until then. Also currently studying a degree in English, Matt is presently writing his second book in the Children of the Village series, and working on a series of children's books.